Welcome to Mendel Optical Insight, we're glad you're here!
Our only concern is you — our customer — and the health of your eyes.
We are happy to help you with all your optical needs. We can help you with a variety of services from eye examinations and contact lens fittings to the ordering of contacts and filling of eyeglass prescriptions. We also accept most Vision Insurance Plans, Vouchers, and Flex Spending Cards. We carry a wide variety of frames from affordable to Designer brands. We carry Prada, Coach, Ray Ban, Robert Marc, Alain Mikli, Maui Jim, Oakley, and Gucci just to name a few.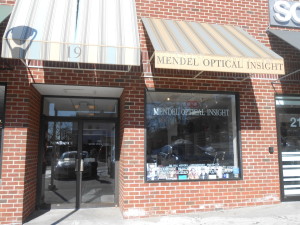 "There is no way I am able to express my thanks to Mendel Optical Insight is Rye Ridge Plaza in Rye Brook. I came in for my exam with absolutely no vision in either eye. Dr. Hal Mendel told me that I had cataracts in both eyes which prevented me from seeing. Dr. Mendel sent me to a cataracts surgeon who removed both cataracts and I could see again. I was left with a slight prescription and Dr. Mendel fit me with contact lenses to give me perfect vision. There is nothing better than having your vision returned to you. I will always be grateful to Dr. Mendel and the staff at Mendel Optical Insight."

~ Jerry in New Canaan, CT
No matter your age, we can help you find the right eye wear, contact lenses or sports glasses to meet your needs. But honestly, we REALLY love helping youngsters get into their first pair of contact lenses and out of those old eye glasses.
"I cannot stop telling people about the great care and service I receive from Mendel Optical Insight. Dr. Hal Mendel fit me with a special monovision contact lens technique and now I can see distance and near and do not have to wear eyeglasses. My son and daughter and husband were fit for contact lenses by Dr. Mendel and they could not be happier with the fit and vision they get out of their contact lenses. When my kids needed glasses the staff at Mendel Optical Insight showed a great deal of knowledge and patience and helped them pick out some great designer frames. The service, bondness, caring and professionalism is second to none. Thank you Mendel Optical Insight for everything."

~ Bonnie in Scarsdale, NY
Are you are tired of wearing glasses or contacts? We can help you finally get your vision corrected! We have affiliations with the TLC Lasik Center where Dr. Mendel works hand in hand with the Doctors there to help you achieve your best vision ever!
We invite you to come see us at our optical shop in the Rye Ridge Plaza Shopping Center. Call for an appointment to see Dr. Hal Mendel and the team.
Dr. Mendel has been serving the Rye Brook/White Plains and surrounding communities for over 30 years! We look forward to serving all your optical needs here in the Rye Brook Office, Come see what we can do for you!